Ages 0-5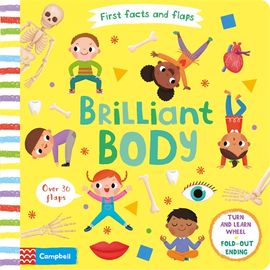 In First Facts and Flaps: Brilliant Body preschoolers discover the wonders of the human body through over thirty flaps, a turn-and-learn wheel and a giant fold-out ending. With colorful scenes by Naray Yoon and rhymes to introduce each topic, this fun novelty book encourages young children to learn as they play. All facts are age-appropriate, picture-led and fact-checked by Kristina Routh, a medical doctor and experienced medical writer, editor and consultant. Discover more titles in the First Facts and Flaps series with Amazing Animals, Giant Dinosaurs and Super Space.
The perfect introduction to Thomas the Tank Engine! All aboard for an engine adventure! This story is about Percy, Sodor's Number 6 engine. He's small and cheeky and he loves to play tricks.
Ages 6-8
The tale unfolds in China, a place as yet unknown and mysterious to Tintin. It looks like our hero may have bitten off more than he can chew as he takes on the task of wiping out the international opium trade, which has a vice-like grip on this beautiful country. With the assistance of the secret society Sons of the Dragon, and his friend Chang (whom he encounters later on in the story), Tintin succeeds in overcoming myriad obstacles to finally triumph over his adversaries and disband their network of corruption.
After inspiring countless young readers with tales of extraordinary people in the world around them, Ben Brooks' first children's novel is a magical adventure that celebrates friendship, the power of imagination, and ice cream.
Believe in the impossible... A magical story celebrating the power of imagination, from the bestselling author of stories for boys who dare to be different. 
Ages 9-12
Famed for laugh-out-loud humor through words 7 cartoons, the Diary of a Wimpy Kid books follow Greg Heffley as the records the trials and triumphs of middle school.
Greg suddenly finds himself dealing with the pressures of boy-girl parties, increased responsibilities, and even the awkward changes that come with getting older—all without his best friend, Rowley, at his side. Can Greg make it through on his own? Or will he have to face the "ugly truth?"
Told with humor and heart, The Boy at the Back of the Class offers a child's perspective on the refugee crisis, highlighting the importance of friendship and kindness in a world that doesn't always make sense.
Ages 13+ 
The Hate U Give is a 2017 young adult novel by Angie Thomas. It is Thomas's debut novel, expanded from a short story she wrote in college in reaction to the police shooting of Oscar Grant.
Sixteen-year-old Starr Carter moves between two worlds: the poor neighborhood where she lives and the fancy suburban prep school she attends. The uneasy balance between these worlds is shattered when Starr witnesses the fatal shooting of her childhood best friend Khalil at the hands of a police officer. Khalil was unarmed.
The Catcher in the Rye is an all-time classic in coming-of-age literature- an elegy to teenage alienation, capturing the deeply human need for connection and the bewildering sense of loss as we leave childhood behind.
Fleeing the crooks at Pencey Prep, he pinballs around New York City seeking solace in fleeting encounters—shooting the bull with strangers in dive hotels, wandering alone round Central Park, getting beaten up by pimps and cut down by erstwhile girlfriends. The city is beautiful and terrible, in all its neon loneliness and seedy glamour, its mingled sense of possibility and emptiness. Holden passes through it like a ghost, thinking always of his kid sister Phoebe, the only person who really understands him, and his determination to escape the phonies and find a life of true meaning.